High is high: 6.39 feet (195 centimeters), strong is strong: he trains almost every day at the gym. Ivan Nikolic, from Serbia, is a very funny!.. And polite guy, who works as a  security   man inside and in front of the nightclubs. It 'very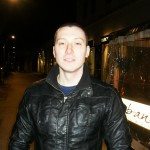 courteous, but also very determined and professional when dealing with difficult situations, with people drunk and aggressive. Ivan currently resides in Carpi, a small town in the province of Modena. He lives in Italy since many years and here's what he thinks of Italy:
1. Ivan, how long have you been here in Italy ?
I'm here since august 1999, thus they are almost thirteen years.
2. How do you feel to live here ?
When I was arrived here I was still a child, I was about eleven years old, and i loved it very much immediately, I began attending the school so I succeeded in learning very well the Italian,  and in joining group really well. Also the Italian children accepted me in a terrific way, intrigued by the fact that I was the unique foreigner within the class, and therefore they wanted discover a lot about me. I've always felt good to live in Italy and I think to stay  to live here, even if, in the last ten years, with the crisis, it is much more difficult to find a job. I don't give up and  keep going forward to look for a job and a better future.
3. Have you been in other cities in Italy ? Which ones ? Which was your favorite one ?
I've been in different Italian Cities ( Turin, Milan, Verona, Siena, Florence, Bologna, etc..), but my favorite one remains Florence, a gorgeous City full of History, and I suggest everybody to visit it.
4. If you were to give advice on Italy to a foreigner person, or to young people from your Country, what would you tell them ?
I'd like to tell them that anybody who comes in Italy for work, study, etc… is very well accepted, even if in the last years the number of foreigners has increased a lot, and then, with the crisis the job is decreased. Anyway…I think that, if a person tackles it , he can succeed, integrate and obtain what he wants.
5. How do you see your future in Italy ?
For now I see my future a little less well than a few years ago, when the work was not scarce, and the prospects were better, but I do not give up and keep going forward always with the thought, sure that ,sooner or later, things will improve, and there will be more opportunities for all.